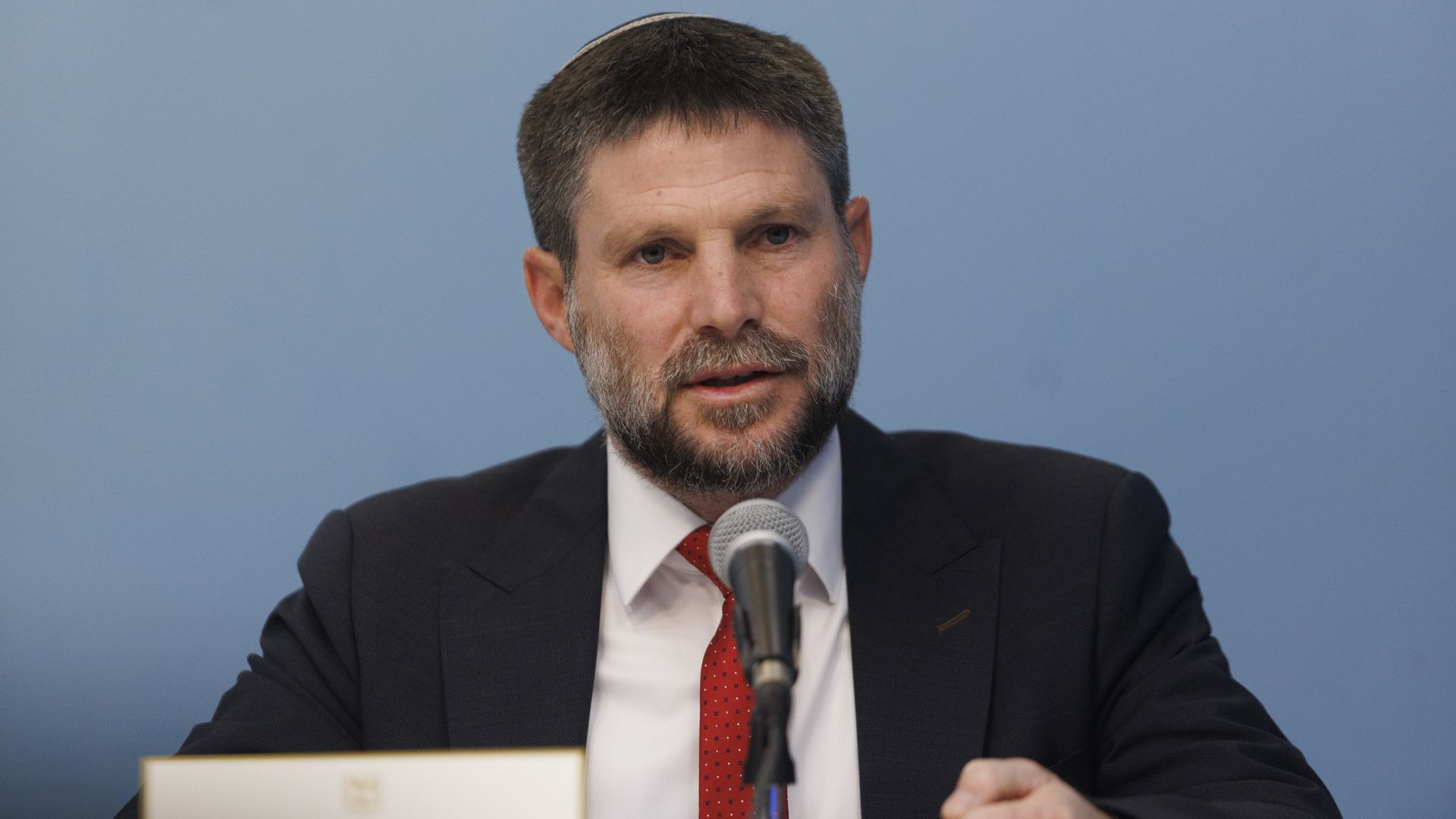 Israeli Finance Minister Bezalel Smotrich on Jan. 11. Photo: Kobi Wolf/Bloomberg via Getty Images
Israeli Finance Minister Bezalel Smotrich called for the Palestinian village of Hawara to be "wiped out" by the Israeli government on Wednesday, just days after the hundreds of Israeli settlers torched homes and cars in the town in a rampage that killed one Palestinian man and wounded dozens of others.
Why it matters: Smotrich, a far-right Israeli settler known for his Jewish supremacist rhetoric, is also the minister in the Ministry of Defense in charge of civilian affairs in the West Bank. Many, including opposition leader Yair Lapid, have accused Smotrich of inciting "war crimes" over his comments and actions related to the violence in Hawara.
Smotrich later Wednesday issued a statement appearing to walk back the comments.
Driving the news: After Israeli authorities said a Palestinian gunman killed two Israelis who were driving in Hawara on Sunday, Smotrich liked a tweet that called for the village to be wiped off the map.
Shortly after, hundreds of settlers went on a rampage in Hawara.
Yehuda Fuchs, the commander of the IDF central command, called the settler attack "a pogrom" — a term used to describe attacks against Jews in Eastern Europe in the early 20th century.
What they're saying: Asked at a public conference on Wednesday why he liked the since-deleted tweet about Hawara, Smotrich said in comments caught on camera: "Because I think the village of Huwara needs to be wiped out. I think the State of Israel should do it."
Following outrage later Wednesday, Smotrich in a statement blamed the media for manipulating his comments and stressed he didn't mean to wipe the village off the map "but only to act in a surgical way against terrorists and their supporters in the village in order to restore the security."
What to watch: Smotrich is expected to visit the U.S. the second week of March for a meeting of the Israel Bonds organization.
Israeli officials said he hasn't asked for any meetings with the Biden administration.
Two U.S. officials told Axios that even if he asked for meetings with Biden officials, he likely wouldn't get them.
Go deeper: Israel often did not prevent settler attacks against Palestinians in 2021, U.S. report finds
Source: Read Full Article