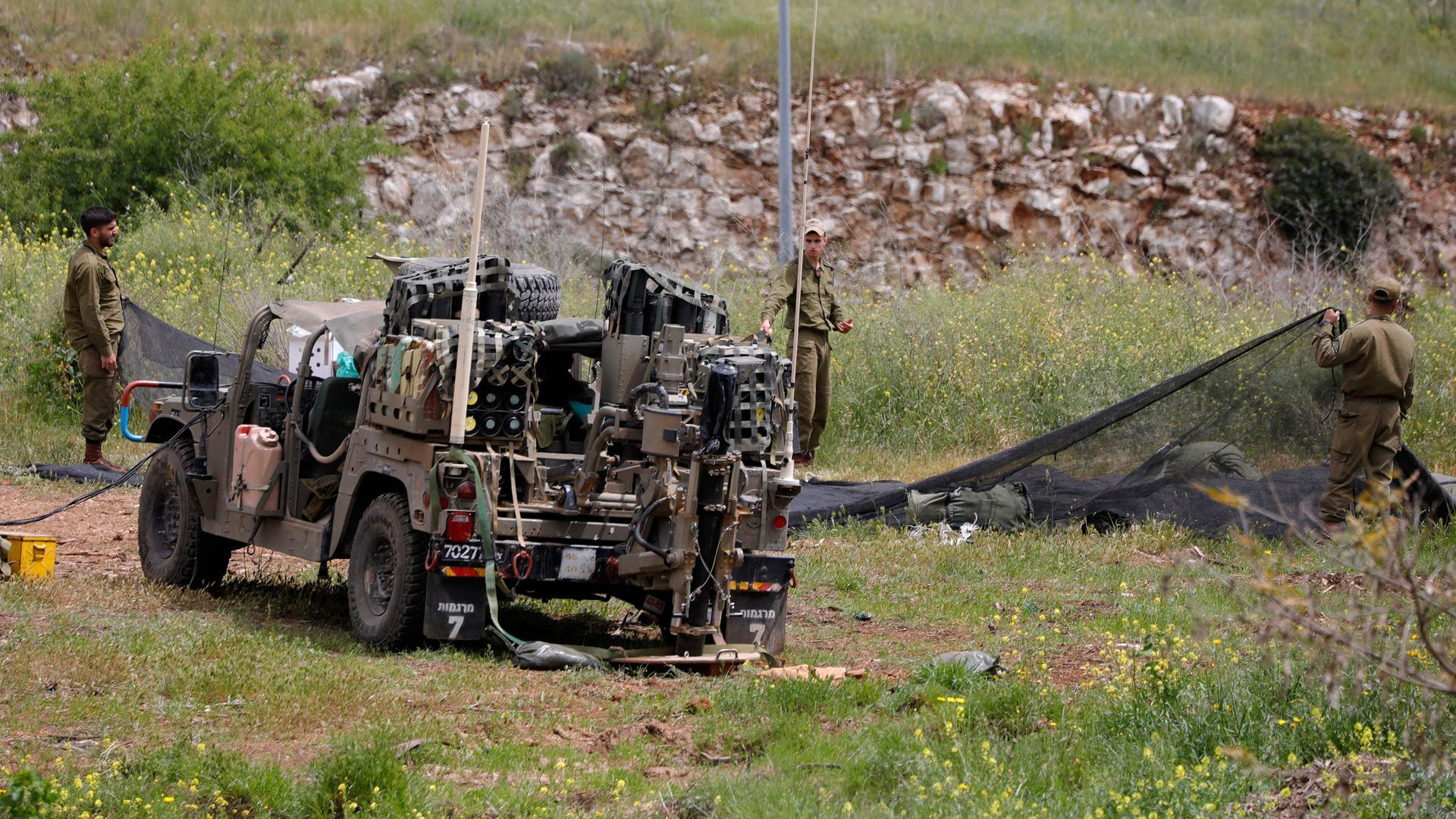 Israeli soldiers deploy in an open area near the border with Lebanon. Photo: Jalaa Marey/AFP via Getty Images
BEIRUT — Last week's intense exchange of rocket fire over Lebanon's southern border with Israel left Lebanon in fear of being dragged into another war, which would be catastrophic as the country faces an unprecedented economic crisis.
The big picture: The rocket attack — the worst escalation since the 2006 war — also demonstrated the increasing coordination between Lebanon's Iran-backed Hezbollah and Palestinian armed group Hamas, experts say.
Driving the news: Israel blames Hamas for the attacks, but Hezbollah likely authorized the group to launch the rockets, Hilal Khashan, a professor of political science at the American University of Beirut, told Axios.
Hamas has not formally claimed to have launched the rockets, but the group has praised them. For its part, Hezbollah denied being involved. In response to Israel's attacks, Hezbollah Deputy Secretary-General Naim Qassem last week said that "the entire axis of resistance remains vigilant."
Hamas has in recent years increasingly sought to deepen its connections with the Iran-backed Hezbollah, which as one of Lebanon's most powerful political parties has ample ability to maneuver the country's domestic and international affairs.
Now isolated from most of the Arab world, Hamas has "reluctantly" turned to Iran for support, said Khashan.
Between the lines: Despite the ideological divide between Sunni-inspired Hamas and Shiite-inspired Hezbollah, the two militias are united under their shared animosity toward Israel.
The warming of Hezbollah-Hamas ties breaks away from the decadelong period of estrangement due to the groups' backing of opposing sides in the Syrian war.
State of play: Hezbollah's likely involvement in the rocket fire particularly "enraged" Lebanon's Christians, amplifying their mistrust toward the Shiite political party and reinforcing their determination to prevent the election of a pro-Hezbollah president, Khashan said.
But Hezbollah's allies have also condemned the recent violence in the south. The Hezbollah-allied Shiite political party, Amal, said they were not satisfied with the "playing of the security and stability of the south" and did not support the launching of rockets.
Meanwhile, Lebanon has filed a complaint to the UN in response to Israel's retaliatory attacks on Hamas targets, which it stated were a "flagrant violation" of the country's sovereignty.
Hamas leader Ismail Haniyeh on Sunday concluded his visit to Lebanon, where he met with Hezbollah leader Hassan Nasrallah and discussed "the readiness of the axis of resistance" against Israel.
The bottom line: Israel and Hezbollah want to avoid igniting a war that could explode into a regional confrontation.
Israel deliberately avoided a wider conflict with Hezbollah by focusing its retaliation on Hamas targets.
Hezbollah's authorization for Hamas to launch the rockets was a mere "show of solidarity" with the Palestinian cause, Khashan said, the Lebanese militia also aiming to avoid an all-out conflict.
"Hezbollah doesn't want to confront Israel because they know the consequences," Khashan warned.
Source: Read Full Article