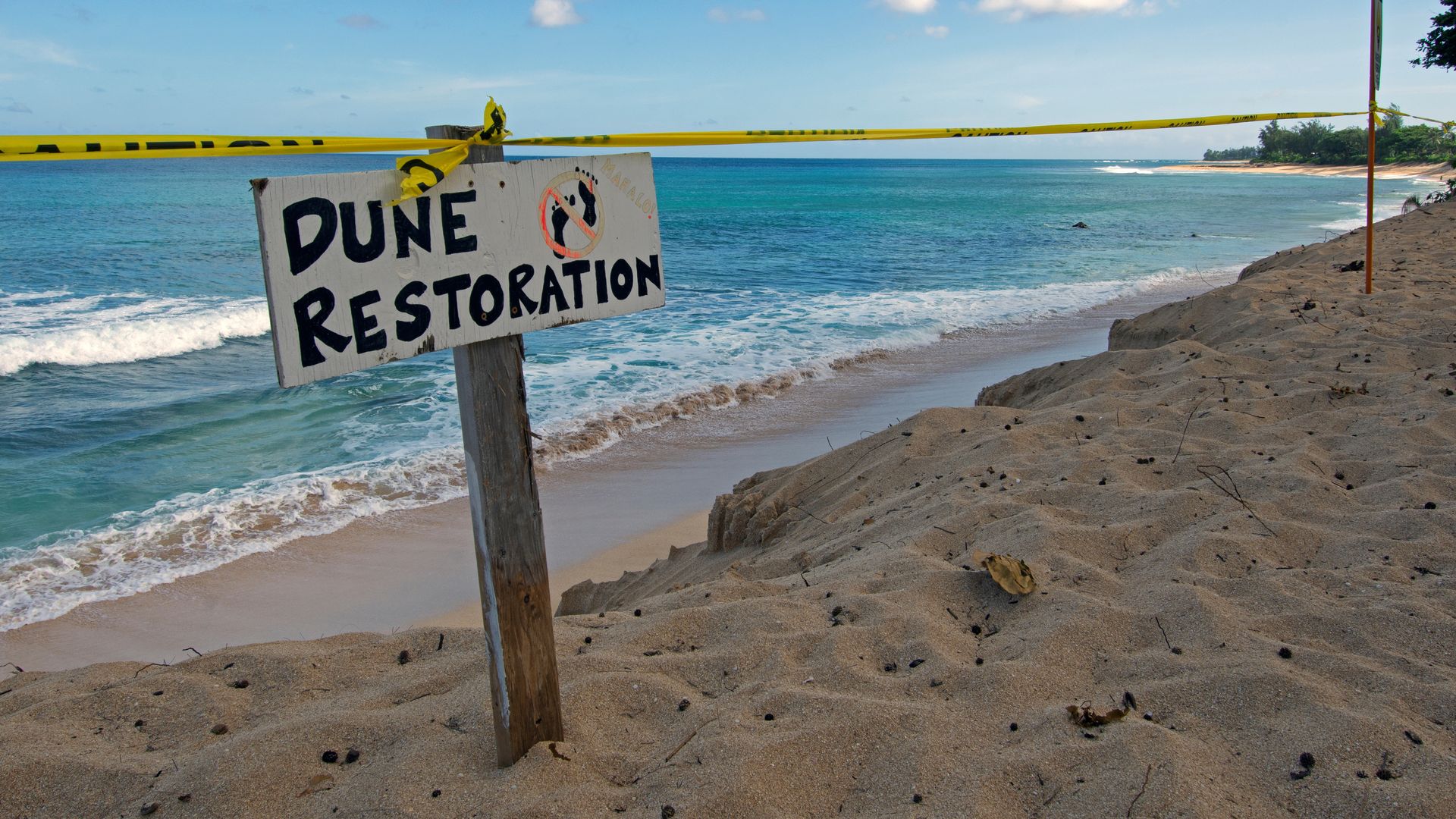 Severe beach erosion in Oahu, Hawaii.Photo: Andre Seale/VW PICS/Universal Images Group via Getty Images
Hawaii could soon require tourists to pay a fee to visit state parks and trails under a bill moving through the state legislature.
Why it matters: Tourism has significantly exacerbated environmental damage to the islands, which already suffer outsized climate change effects. Locals have increasingly voiced frustration over the years amid reports of visitors harassing wild animals, hurting coral reefs and leaving behind plastic waste.
The issue is especially critical for Native Hawaiians, who have lost access to many of the natural resources necessary for their cultural traditions and subsistence practices since colonizers first seized their land.
Hawaii is home to roughly 1.4 million people but sees over 10 million visitors per year.
Details: Though legislators are still mulling how much to charge for a tourism fee, the bill would require visitors to pay for a license that would grant access to state-designated parks, forests, hiking trails and other natural areas.
The program would go into effect on July 1, 2025.
Hawaii residents would be exempt; they must have filed or paid state income taxes for the previous year or be able to provide evidence of their address via documents such as a state driver's license.
The bill, if enacted, would follow similar models implemented in other popular travel destinations including Venice, Italy, New Zealand and Ecuador's Galapagos Islands.
The big picture: It's not the first time officials have raised the possibility of a tourism fee — Gov. Josh Green (D) campaigned last year on imposing a $50 "climate impact fee" for any tourist entering the state, the Honolulu Civil Beat notes.
The number of tourists from the rest of the U.S. has especially spiked in the past year after taking a dip due to the pandemic — it was up 29% n September 2022 compared to the same month in 2019, according to data from the Hawaii Department of Business, Economic Development & Tourism.
This has contributed to upward trends in greenhouse gases due to transit, pollution of oceans and parks, coastal erosion, habitat destruction and overcrowding, among other issues. It also meant a surge in COVID cases that disproportionately hurt Native Hawaiians and Pacific Islanders.
Since 2016, yearly state surveys have consistently shown that about two-thirds of Hawaiian residents believe their "island is being run for tourists at the expense of local people."
Source: Read Full Article