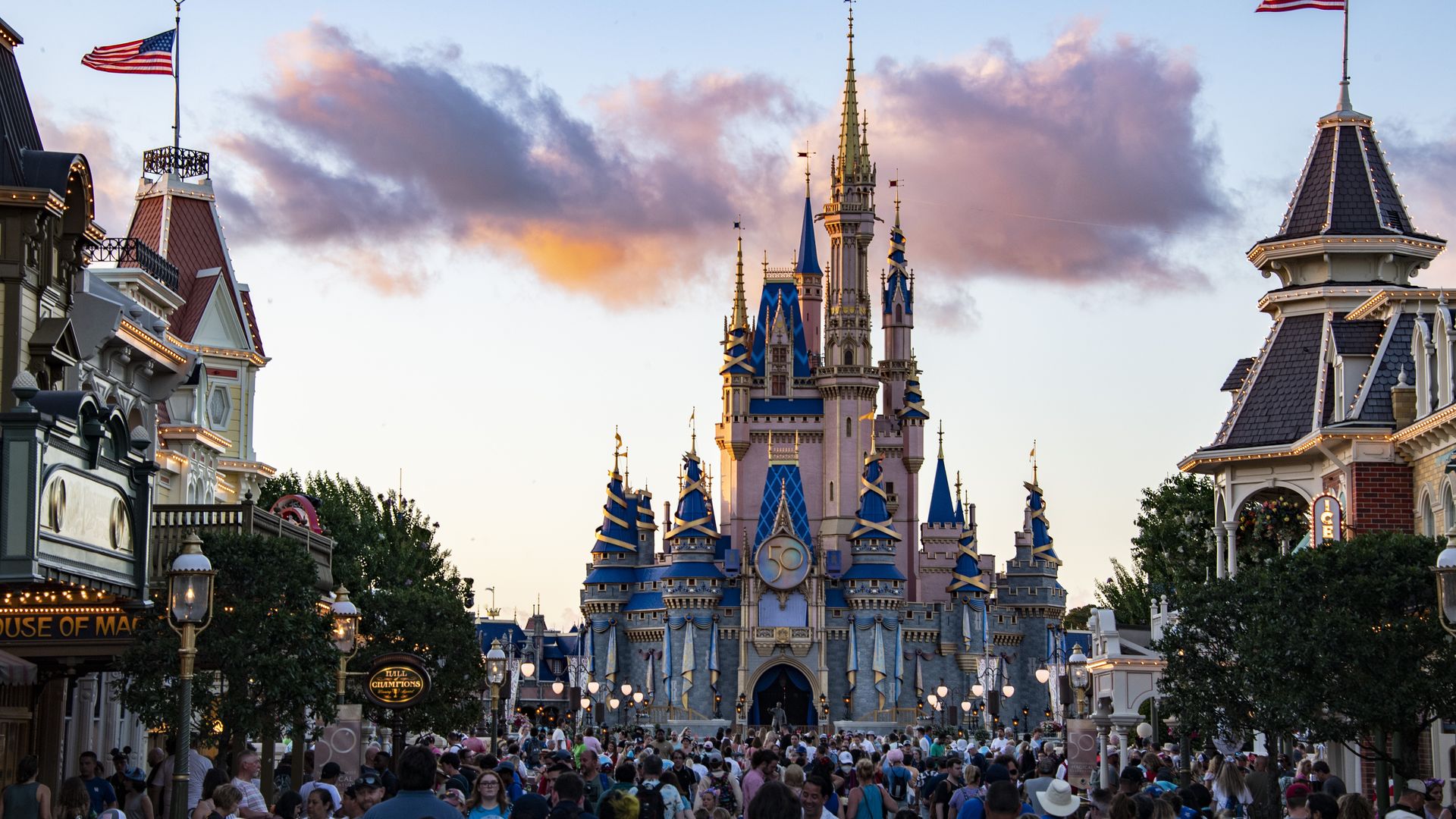 Crowds pack at the Magic Kingdom Park at Walt Disney World. Photo: Joseph Prezioso/Anadolu Agency via Getty Images
Florida Gov. Ron DeSantis signed legislation Monday that gives the state control over Walt Disney World's self-governing district.
Why it matters: DeSantis and Disney have been at odds since the company spoke out against the Parental Rights in Education Law — referred to by critics as the "Don't Say Gay" bill.
The move, which effectively strips Disney of control of the Reedy Creek Improvement District, could make it harder for the company to operate its parks as efficiently.
The high-profile bill signing also comes as DeSantis prepares for a potential presidential run.
Zoom in: The new legislation will create a new state-controlled tax district that will oversee the 25,000 acres surrounding Walt Disney World.
The new district — renamed the Central Florida Tourism Oversight District — will have a five-person board overseeing it, with members appointed by DeSantis and approved by the Florida Senate.
The legislation removed parts of the district's power, including the ability "to build a nuclear power plant and an airport, but those powers had never been used," according to Variety.
What they're saying: "The corporate kingdom finally comes to an end," DeSantis said at a press conference Monday. "There's a new sheriff in town and accountability will be the order of the day."
Disney said in February it would not fight the bill and would work within the legislative framework.
"We appreciate all that the District has done to help our destination grow and become one of the largest economic contributors and employers in the state," Jeff Vahle, president of Walt Disney World, said in a statement.
Disney and DeSantis' office both did not immediately respond to Axios' request for comment.
Flashback: In April of last year, DeSantis signed into law a bill that would revoke Reedy Creek's special status and teased that the state would take control over Disney's self-governing district.
Reedy Creek was created in 1967 and allowed Disney to operate municipal services on its own.
Go deeper: Disney won't fight Ron DeSantis' takeover of Reedy Creek district
Source: Read Full Article