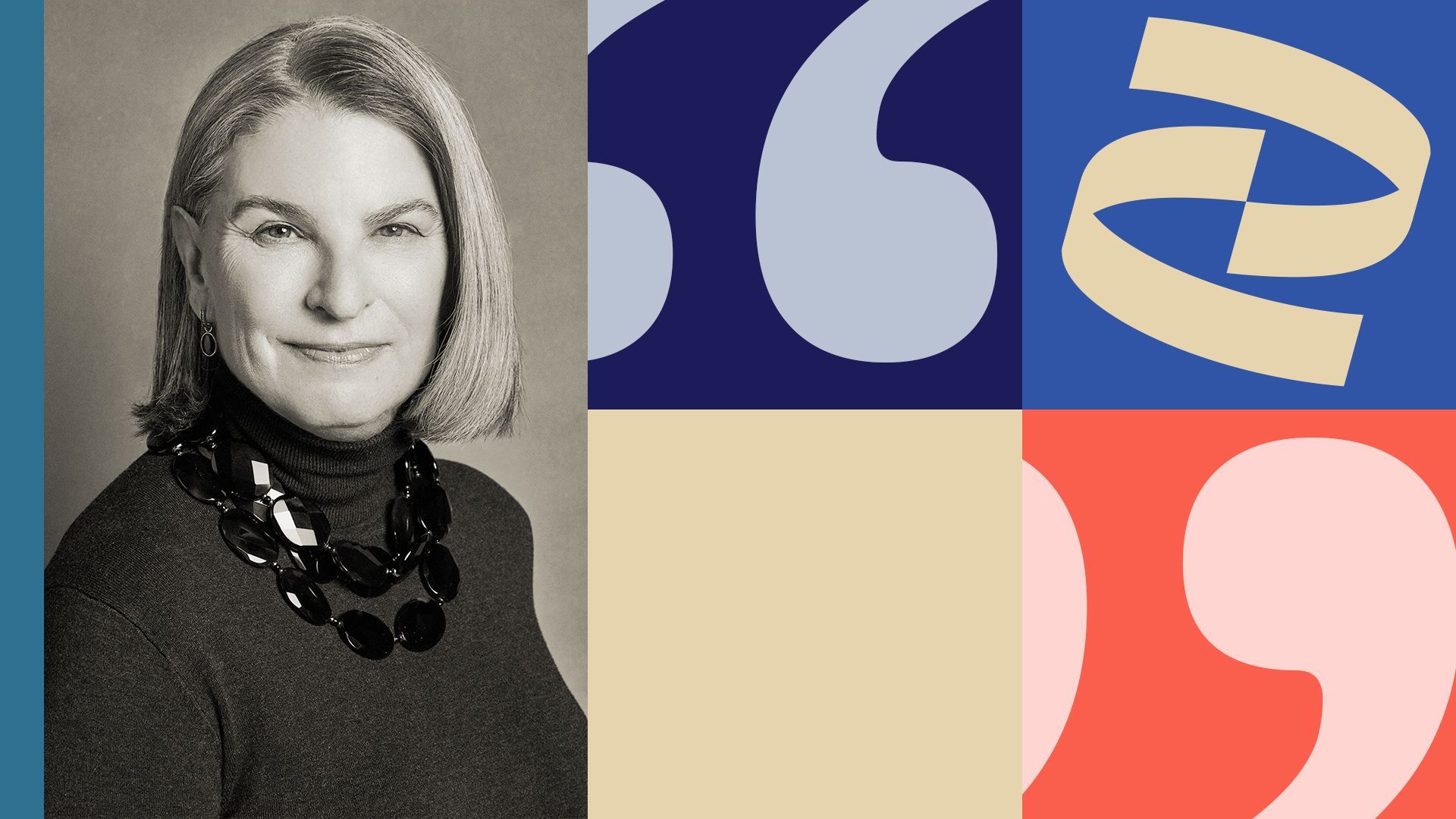 Photo illustration: Shoshana Gordon/Axios. Photo: Pfizer
At Pfizer, Sally Susman's team has used the power of communications to rebrand the organization, roll out a highly politicized — yet lifesaving vaccine — and now they're embarking on what she calls the "moon shot 2.0" to advance the battle against cancer.
Why it matters: Susman is one of the few communicators to successfully position her team as trusted partners and key strategic assets.
📍How she got here: Susman got her start in politics before jumping into corporate communication roles at American Express, Estée Lauder and now, Pfizer.
🏗 How it's structured: She manages a team of roughly 500 who oversee communications, corporate responsibility, government relations, public affairs and policy, patient advocacy and investor relations.
✈️ Work travel tip: As opposed to bouncing from conference room to conference room, Susman always makes an effort to "see something real."
Most recently, during a stop in Austin, Texas, for SXSW, Susman "explored the University ofTexas campus and pursued barbecue with a vengeance. You know, and I think those kind of things are just really important."
📈Trend watch:The rise of CEO influence.
"What companies say and do is under enormous scrutiny, but great leaders are gaining some headway in terms of being educators, connectors, and sharing insights that are really important. Throughout COVID, our CEO became the educator in chief and I think that could be a trend."
🔀 Communication shifts: Stakeholder activism and digital media have changed everything, says Susman.
"The digital explosion has given stakeholders global access to information, their own microphones and amplification opportunities. Every day has a different set of challenges and opportunities based on what's happening in the world."
💡Most important comms skills: Intentionality and candor.
"It's something that is so hard to do given the fast-paced nature of our lives, but I was really lucky that I had a watershed moment early in my life when coming out in the early '80s. It confirmed for me that the short-term pain that can sometimes come from having a really candid conversation will reward you with peace and with pride."
🔍Most overlooked skill: Humor.
"I can't tell a joke to save my life, but it is so effective in lightening the mood in building a feeling of friendship or camaraderie."
Zoom in: "I've struggled to be joyful in the workplace, but I listened to feedback and made it a priority," Susman told Axios. "My team wasn't looking for a stand-up comedian, but someone who can celebrate a great achievement, who sees them and honors their successes, and who laughs at my own mistakes."
📚Media diet: She recently read "Ride of a Lifetime" by Bob Iger and is currently re-watching HBO's "The Sopranos."
📱Influenced by: LinkedIn is Susman's social media platform of choice.
Favorite follows include Girls Who Code founder and author Reshma Saujani and Lisa Sherman, president and CEO of The Ad Council.
🧠Best advice: Work with people you like, go somewhere you can contribute, and find a place where curiosity is encouraged.
Subscribe to Axios Communicators.
Source: Read Full Article