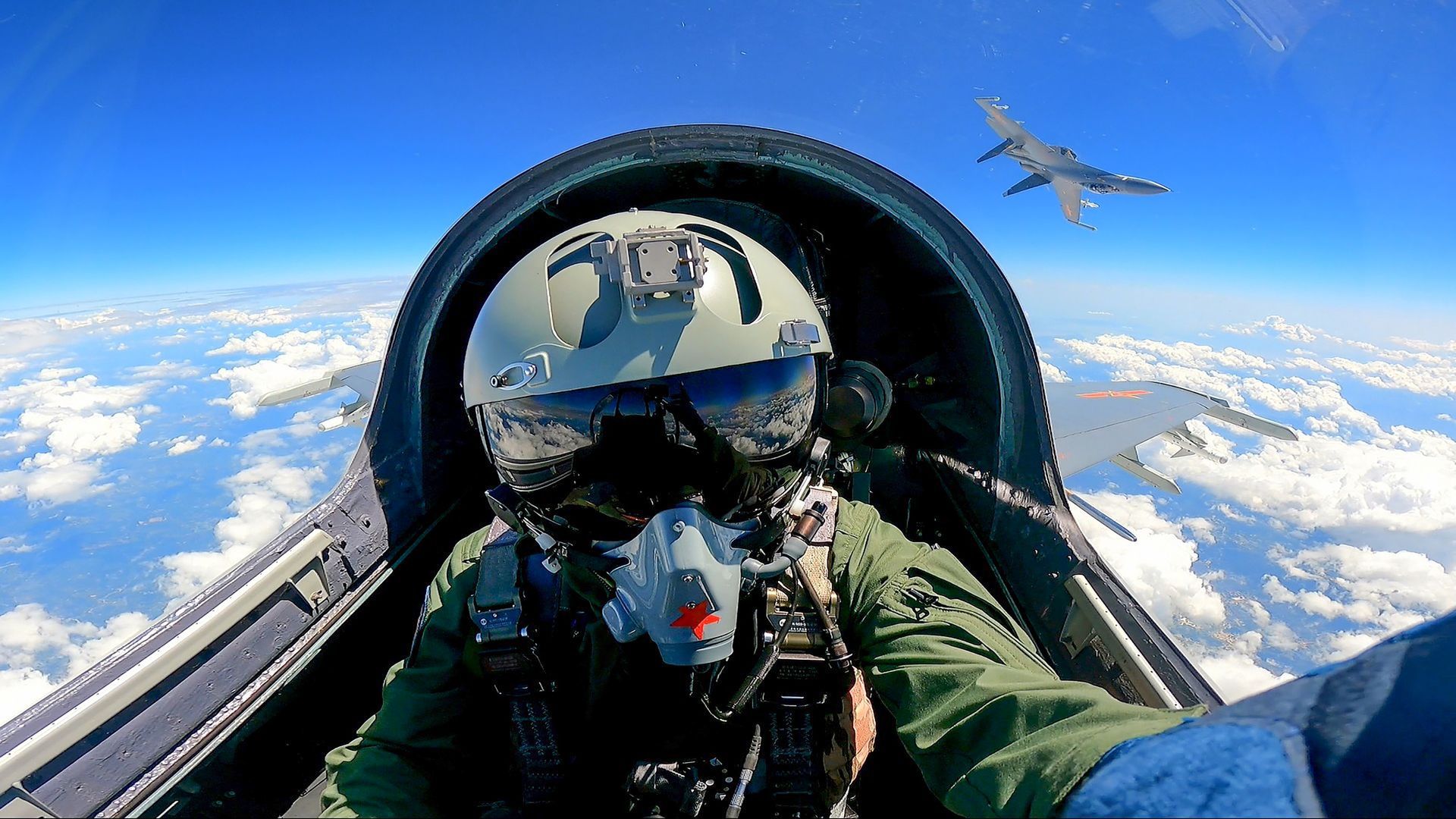 Chinese People's Liberation Army warplanes during the military exercises around Taiwan on April 9. Photo: Mei Shaoquan/Xinhua via Getty Images
China's military ended three days of live-fire drills around Taiwan on Monday, after a show of force intended to intimidate Taiwan.
Why it matters: The drills signal Beijing's resolve but they also alienate neighboring countries and strengthen the U.S.' own resolve to support Taiwan.
The use of such force "exacerbates fears about China's growing military capabilities, and causes smaller countries to fret about the U.S.-China competitive dynamic," Drew Thompson, a visiting fellow at the Lee Kuan Yew School of Public Policy at the National University of Singapore, told Axios.
Details: China's drills were smaller than those that followed then-Speaker Nancy Pelosi's visit last year but included some new elements.
China's Shandong aircraft carrier took part in the war games, which were heavy on air power. Chinese J-15 fighter jets approached Taiwan from the east in what appeared to be the first simulated airstrikes from the far side of the island from the mainland.
China also conducted patrols in the Taiwan Strait and inspected ships passing through. At least 71 Chinese aircraft crossed the median line in the strait between Taiwan and the mainland — a further indication that Beijing now disregards that unofficial boundary.
China's military said the exercises were to practice "sealing off" Taiwan and to conduct "waves of simulated strikes" on strategic targets.
After they concluded, the PLA said the exercises had demonstrated that its troops were "ready to fight at any time to resolutely smash any form of 'Taiwan independence' and foreign interference attempts."
But other neighboring countries were alarmed.
Japan scrambled jets on Monday in response to what it said were approximately 80 takeoffs and landings by fighter jets from the aircraft carrier and 40 by helicopters.
"The People's Liberation Army is deliberately creating tensions on the Taiwan Strait. Besides damaging peace and stability, it also creates negative impact on regional safety and development," Taiwan's Ministry of National Defense said over the weekend.
Between the lines: The drills aren't purely practice but are themselves a form of military coercion, said Thompson, because Beijing is using military force in an attempt to change Taiwan's behavior — in this case, deterring Taiwan from future high-level meetings with U.S. officials.
Source: Read Full Article