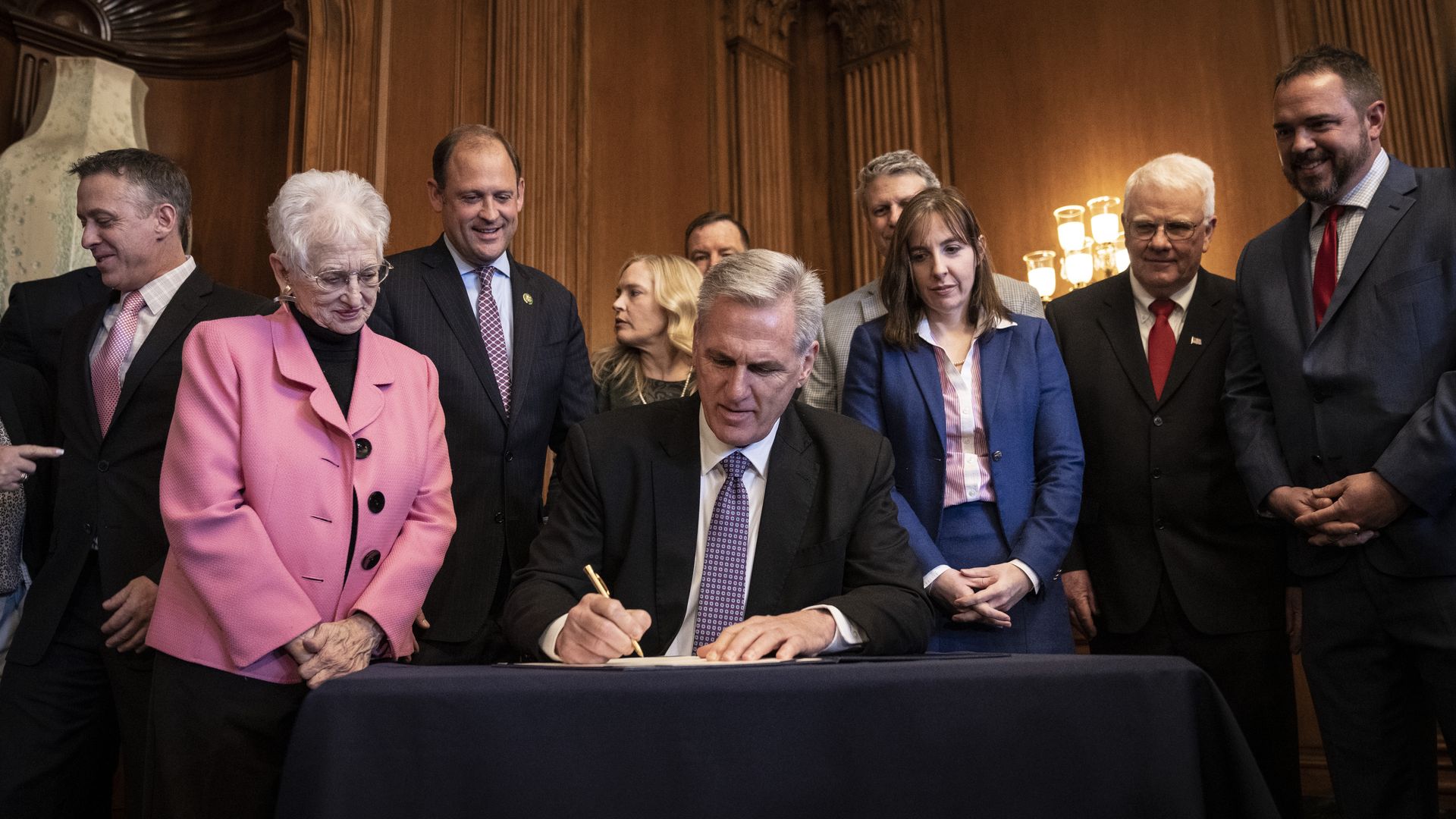 House Speaker Kevin McCarthy enrolls an anti-ESG resolution passed by the House in March. Photo: Drew Angerer/Getty Images.
The Republican-controlled House is preparing to make its first attempt at overriding a veto from President Biden.
Reality check: A veto override requires support from two-thirds of members in both chambers. With a narrow GOP House majority and Democrats in charge of the Senate, the veto will almost certainly stand.
Driving the news: President Biden on Monday issued his first veto of his presidency against a joint resolution to block a Labor Department rule allowing retirement fund managers to take "environmental, social and governance," or ESG, factors into account.
The House schedule for this week sent out by House Majority Leader Steve Scalise (R-La.) said a veto override "may be considered" on Thursday. Scalise's office told Axios that vote will go ahead as planned.
The vote is likely to fall far short of the two-thirds threshold — just one Democrat, Rep. Jared Golden of Maine, voted with Republicans last month to pass the resolution.
The big picture: The fact that House Republicans are already preparing its first veto override less than three months into the new Congress highlights the profound divisions between them and President Biden.
Those divisions are already proving a crucial obstacle to funding the government on time and avoiding a potentially catastrophic default on U.S. debt.
What's next: This may not be the last veto override vote of the 118th Congress.
The House also passed a resolution overturning an Environmental Protection Agency clean water rule, which could get the bipartisan support needed to pass in the Senate.
Two Democratic senators have told Axios they plan to provide the necessary votes to pass a House-passed resolution ending the national emergency declaration on COVID.
Source: Read Full Article