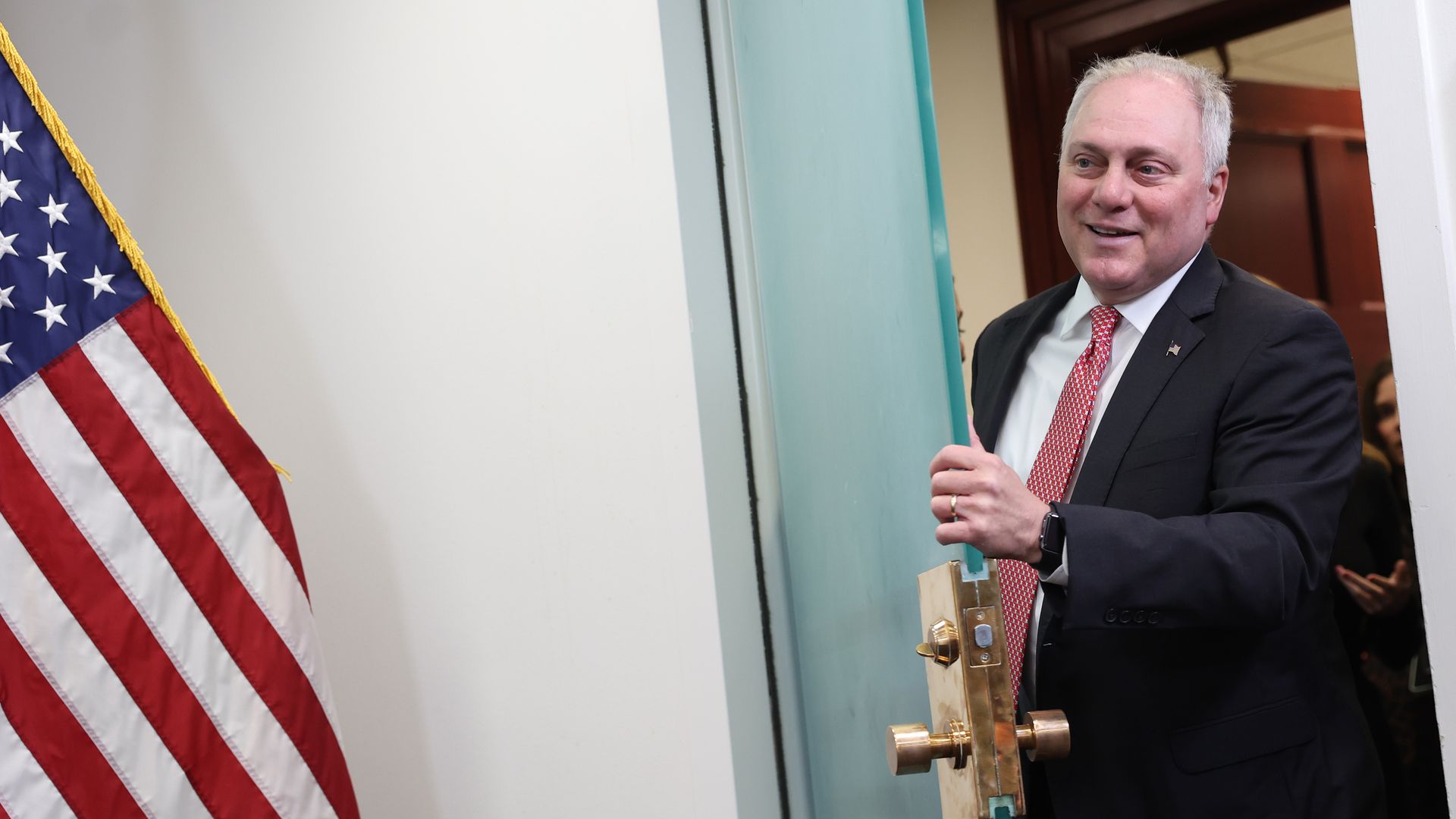 House Majority Leader Steve Scalise is feeling good about GOP wins in the first 100 days of the 118th Congress, he told Axios in an interview last week.
Why it matters: Speaker Kevin McCarthy promised on Monday the GOP can pass a debt limit increase into 2024, and House Republicans are set to unveil sweeping immigration legislation that could divide the caucus.
Scalise told Axios he feels notching two unexpected bipartisan wins signals they're on the right track.
The Louisiana Republican pointed to President Biden signing GOP-led legislation to block changes to D.C.'s local criminal code, and ending the COVID national emergency, as victories for the party.
He also singled out a handful of Democrats joining them in voting for a sweeping package of energy bills.
"When you look at H.R. 1 which is our most recent major achievement, the lower energy costs act, that was a culmination of two months of work with committee chairs with three different committees," he added.
What they're saying: Scalise said he had to strategize early on a plan to bring bills they could pass on the floor following Speaker McCarthy's challenges in obtaining the gavel, allowing them to pass 59 bills in the first 100 days versus the 37 passed in the same time period during the 117th Congress.
Scalise said he's optimistic there are areas where there are additional bipartisan opportunities and plans to bring legislation to the floor that will force Democrats to take difficult votes.
He listed spending and confronting the Chinese government as top areas of interest.
The big picture: GOP lawmakers have struggled to reach a consensus on a budget amid conservatives' push for substantial spending cuts to be attacked to any debt ceiling deal.
The White House has maintained that they will not negotiate the debt limit, providing a significant hurdle for Republicans.
Scalise noted that immigration is a "complicated issue for Republicans but border security is something that we are strongly united behind."
The other side: Democrats have repeatedly attacked GOP priorities, accusing them of focusing on partisan investigations and messaging bills.
"House Republicans' first 100 days in the majority have been dominated by Kevin McCarthy's weak grip on his caucus and Republicans' flailing, politically motivated attacks and infighting," the DNC said in a statement.
Source: Read Full Article