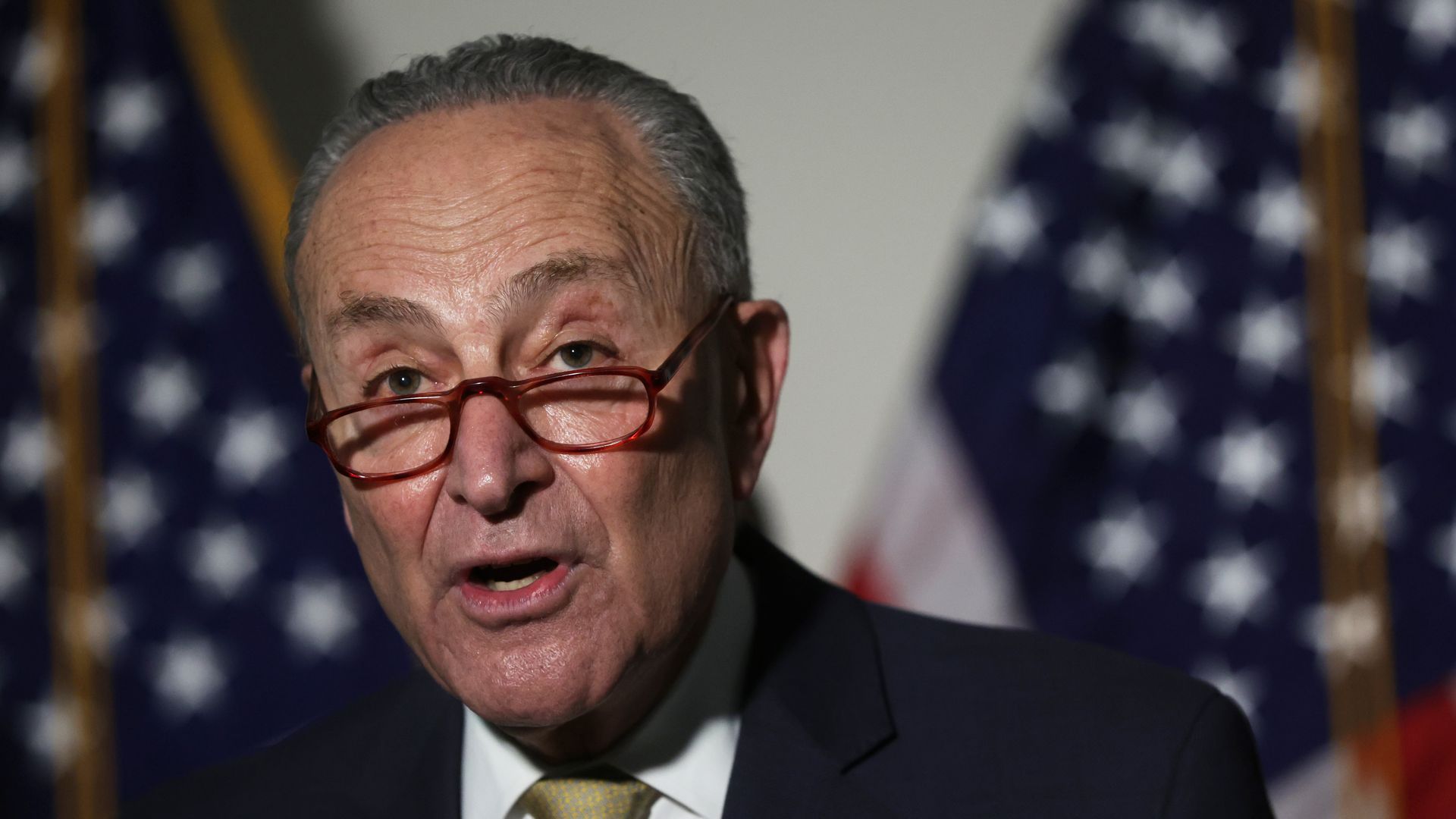 Senate Majority Leader during a news conference in Washington, D.C., on Wednesday. Photo: Alex Wong/Getty Images
Democrats failed Wednesday night to change Senate filibuster rules to pass the voting rights bill, with Sens. Joe Manchin (D-W.Va.) and Kyrsten Sinema (D-Ariz.) voting with Republicans.
The big picture: The failed effort came after Senate Republicans blocked the voting rights measure from coming to a final vote earlier Wednesday.
The voting rights bill combined two separate pieces of legislation already passed by the House — the Freedom to Vote Act and the John Lewis Voting Rights Advancement Act — allowing the Senate to bring the measure to the floor and avoid an initial filibuster.
The measure was blocked by Republicans in a 49-51 vote. Senate Majority Leader Chuck Schumer changed his vote to "no" for procedural reasons.
Between the lines: Democratic leaders, including President Biden and Schumer, for weeks have called for changing the filibuster rules to pass federal voting legislation, a key tenet of Biden's agenda.
But Wednesday night's efforts were seen as doomed from the start. Manchin and Sinema — who voted in favor of the voting rights legislation — had maintained they were against changing the filibuster.
While Schumer acknowledged that reality at a Senate Democratic caucus meeting Tuesday night — and some vulnerable Democrats up for re-election felt the effort would put them in a tough spot — he argued it was worth putting members on the record for historic legislation.
What they're saying: "At the core of our democracy is a basic principle: the right to vote, and to have that vote counted," Biden said in a statement late Wednesday.
"That principle was assaulted one year ago, when a violent mob attempted a coup seeking to overturn the will of the people. And today, in state after state, Republican state legislatures are engaged in an unprecedented effort to suppress the sacred right to vote and subvert the American bedrock of free and fair elections," he added.
"In the face of those threats, I am profoundly disappointed that the United States Senate has failed to stand up for our democracy. I am disappointed — but I am not deterred."
Vice President Kamala Harris added in a separate statement that "every member of the United States Senate — Democrats, Republicans, and Independents — takes an oath to preserve and protect our Constitution. It is their duty to safeguard our democracy and secure the freedom to vote."
"Yet today, Senators voted to preserve an arcane Senate procedure rather than secure that fundamental freedom. The American people will not forget this moment. Neither will history," she added.
What to watch: Schumer maintains he is determined to push ahead with voting rights legislation, even in the face of opposition from Republicans and those within the party's own ranks.
"Democrats will continue to fight on this issue until we succeed," Schumer said Tuesday.
Editor's note: This story has been updated with new details throughout.
Source: Read Full Article